Sex Therapy, Sex & Relationship Coaching & Tantra Teaching
Welcome to my website! As an internationally renowned Sex Therapist, Coach and Educator I offer you not only private sessions and retreats, also a huge amount of support material accessible to anyone anywhere in the world. I've converted my huge wealth of knowledge and experience into on-line programs, books, blogs, podcasts, radio show, media articles and interviews. Please take your time to browse this site as there is so much information here to help you!
RADIO
Jacqueline Hellyer - Saturday, September 20, 2014
Jacqueline Hellyer - Saturday, September 13, 2014
Listen to the podcast on iTunes here.


On today's show we're not interviewing a Sex Geek, we're talking to Seven Sex Goddesses! Or at least, Jacqueline is introducing us to the concept of the Seven Goddesses of Sex and how accessing their energies can help modern women come into the fullness of their gorgeous sexuality, with stronger self-image, more desire and greater sexual response! Read More
BLOG
Jacqueline Hellyer - Tuesday, September 16, 2014
Available as a podcast: download here!

With my Four-Week Online Sex Course.

I've run the men's workshop Black Belt in the Bedroom twenty times over the past six years, and it's been fantastic! With feedback like: 



"In the short time since the Black Belt seminar, my partner has said that our sex has turned "180 degrees", and that you are a "miracle worker" !"
 Read More
Jacqueline Hellyer - Tuesday, September 09, 2014
Available as a podcast download here

Meet the Seven Sex Goddesses and discover how they can help you truly embody your sexuality and express yourself fully as a woman!

The Goddesses represent fundamental psychic energies that you as a modern woman can draw on to awaken your sexual potential. Read More
SHOP
NEW RELEASE!

Seven Sex Goddesses - sexual re-awakening for today's woman

Educational erotica to help you reach your full female sexual potential!


MEDIA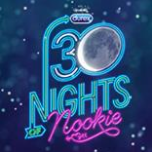 How much closer could you and your partner get if you engaged in nookie every night for thirty nights…? Find out for yourself in the 30 Nights of Nookie Challenge!

I've teamed up with Durex and Women's and Men's Health Magazines to create this exciting new concept.

It all starts on 1 September, although you can start any time between now and the end of the year - sign up at: 30nightsofnookie.com.au

See Jacqueline's many and varied Media appearances