Couples Tantra Retreat in Bali
... cultivate love through an enriched sexuality.
Are you on a quest for spiritual, sexual and relationship empowerment?
Then let me, Jacqueline Hellyer , take you on a wonderful journey of discovery during my five-day Bali Couples Retreat at the stunning Bambu Indah boutique eco resort deep in the tropical hills of Bali.

You'll learn and practice Sacred Sexuality and Conscious Relating and discover the concepts and practices of Tantra, strengthening your relationship and deepening your spiritual and erotic connection.
As a Transpersonal Sexologist, I bring together empowering practices and understanding from a wide range of sources, from modern scientific knowledge and therapeutic practices to ancient Tantric and Taoist wisdom, to create an experience for the two of you that will have you connecting more deeply and opening up more fully than ever before.
Next Retreat:
TBD
postponed until international travel restrictions lift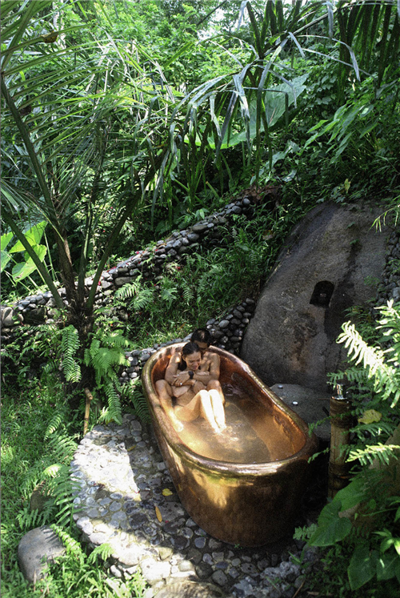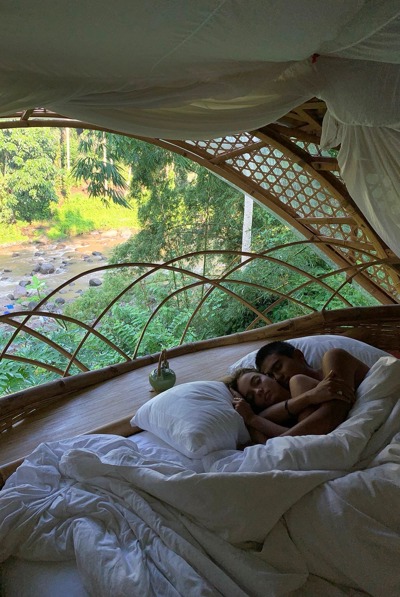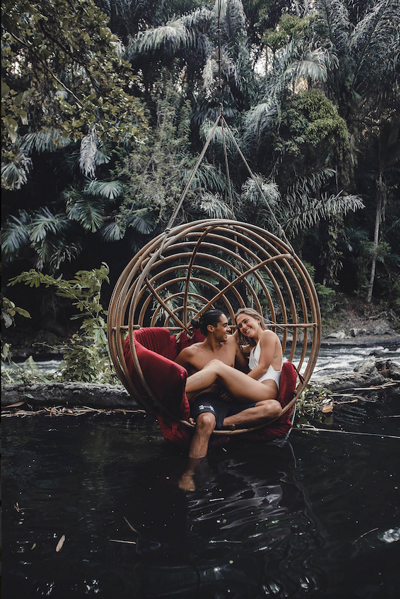 What You'll Do During this Couples Retreat
There are two to three Lessons in Love per day:

Morning love lessons, 10am-12noon, focus on Tantric practices and spiritual connection and are more experiential, covering breath work, meditation, energy sharing, mindfulness, and so forth.

Afternoon love lessons, 3-5pm, are more discussion-oriented, focusing on your relationship so you understand your dynamic and can connect more consciously and positively.

Evening love lessons, 7-9pm, consist of sensual and luscious activities.....

There are also plenty of 'homework' suggestions!

We start at 10am each day (except day one which starts at 3pm), there is a 2-3 hour break, then another group session, a break before dinner,then an evening activity - so you'll have plenty of time to practice. On day three we have a longer afternoon session and you have the evening to yourselves.

There is also a field trip to an ancient temple for a couples blessing, to bathe in men's and women's pools and have a picnic.

Be assured, like all my workshops this Bali Couples Retreat is completely classy and sleaze-free, with no need for self-disclosure and no need for any level of nudity or actual sexual interaction.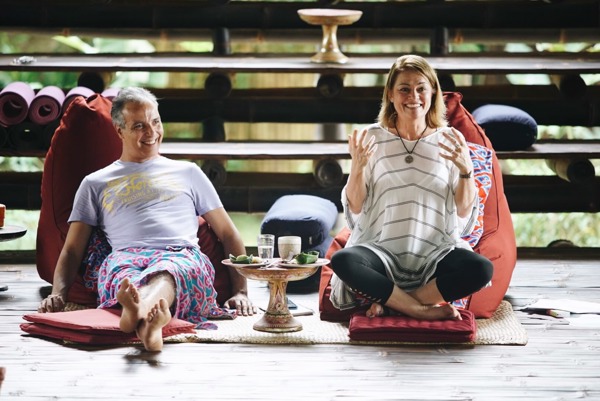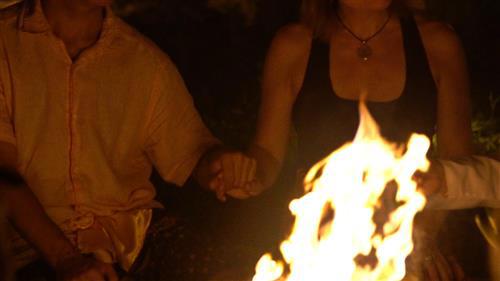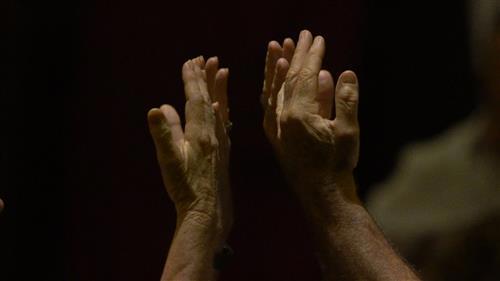 What You'll Learn During this Couples Retreat
1.
Learn the Tantric approach to sex, its physiological basis, and why it's so important for modern lovers.
I love the way science is reaffirming ancient wisdom in so many ways, particularly when it comes to sex. The Tantric approach is essentially good sex -
connected, erotic, intimate
. It's about
slowing down
so that you're in the chill zone, as good sex is not possible if you're stressed; it's about '
syncing in to sink in'
as you can't have good sex if you're not connected; and it's about
being mindful,
as you can't have good sex if you're not present to the experience. I explain the theory and present the practices in a way that is appropriate for
contemporary couples
. As so many participants say, it's not 'woo hoo' or 'fluffy', it makes good practical sense that you can incorporate into 'real' life.
2.
Learn how to keep your 'Couple Bubble' strong.
There are three entities in your relationship, each of you as individuals and you as a couple. When your 'couple bubble' is strong, your connection extends into your individuality and makes life connected and resilient. A strong Couple Bubble means really understanding your partner, and yourself, so that you connect and communicate in a way that works for your partner as much as yourself.
Essentially you become experts on each other.
3.
Learn how to talk about sex, to develop an erotic language together.
One of the key elements of the retreats is that you'll learn how to actually talk about sex. This means learning how to have
open, supportive communication
in general, and particularly in regard to sex. People often tell me I give them
a language to talk about sex
, and in the immersive experience of a retreat you'll certainly discover how you can talk about sex in an open, creative, inspiring, erotic and non-sleazy way! It's kind of like
making sex a mutual hobby
.
4.
Learn how to merge your sex and love energy so that you keep yourselves 'simmering'.
I believe that one of the most powerful elements of the approach I teach is that you
merge the love and sex energies
- which is one of the reasons that it is good for long-term lovers as it's not just about lust. Once you get this, you can constantly share this energy between you. You'll find yourselves
sending each other little quanta of this delicious energy
all through the day, keeping your couple bubble strong and keeping the two of you
'simmering'
so it's easier to move into love-making.
5.
Learn how to explore the ecstasy of the 'valleys' as well as the intensity of the 'peaks' of sex.
While vigorous sex, what we can call the 'peaks' of sex, has its appeal, it's
in the valleys of sex that you find real ecstasy
. In the retreats you have time to really explore how to relax your genitals and get very present in them so that you can have extraordinarily beautiful sexual experiences. You'll discover the many and varied ways of being orgasmic and how to lengthen and sustain erotic and sexual connection (as well as how to have a Tantric quickie!)
6.
Learn ways to pleasure each other for heightened erotic arousal.
We explore what I call
the yin and yang of sex
- exploring the concepts of giving and receiving, leading and following, intensity and subtlety. You'll learn about the
Seven Elements of Sex
, which I personify as the seven gods and goddesses of sex within you - elements of your sexual being. By tapping into these elements you can become integrated within your individual and partnered sexuality and explore your eroticism.
7.
Develop an approach to sex that is endlessly creative and satisfying!
That's what it's really about! When you can keep your connection strong, communicate openly and explore together, you'll find that your love-life thrives. The retreat is a start, or part of an on-going journey of life and love together.
Please note that this Retreat is designed for couples who are in at least a reasonably good space and want to get even better. If your relationship is deeply troubled, please have private sessions with me first, in person or via Skype.