Be Informed, Entertained & Inspired
Incredibly comfortable in front of an audience or camera, Jacqueline has a real skill in presenting engaging, intelligent, inspiring material on a very challenging topic in a way that enables people to feel comfortable and relaxed - and to leave feeling informed, entertained and enlightened.


"We were very pleased and fortunate to have Jacqueline Hellyer speak at our YPO business leaders conference. Our brief journey into the world of personal relationships and sex provided not only a wonderful escape from our business focus, but we also learned a lot about ourselves and our partners. It was much more than Venus and Mars, it was real, practical, insightful and best of all – it was enjoyable. Whether Jacqueline Hellyer is the sole focus of your event or a wonderful sideline – she will delight and educate you. She should not be missed."
David Owens, YPO Australasia

"The program provided during our YPO chapter retreat in Edinburgh provided us insights on the critical physical and emotional components of a relationship. Jacqueline's ability to discuss such intimate issues in a comedic and professional manner put everyone at ease and allowed for greater comfort and participation in her seminars. The experience added tremendously to our retreat and we would highly recommend her for other groups interested in livening up an event or retreat."
Mohammed Khudairi, YPO Dubai

"Jacqueline's complete candour is a gift for any discussion about sex and relationships. Her experience helping people at the coalface of Australian relationships is a huge asset for an informed, engaged and often hilarious conversation."
Meredith Penman, Florence Guild

"Jacqueline truly encapsulated the word 'expert', and was everything you wish for in a speaker; witty, knowledgeable, engaging storyteller, inclusive, well paced and offered a combination of anecdotal stories with well researched facts to deliver an extremely entertaining and educational talk. She made everyone feel at ease, and frequently had the room heartily laughing out loud. She helped shed misconceptions in this area with her excellent understanding and knowledge of the content, demonstrating her leadership in this field. I received so much positive feedback after this masterclass from the mamas who had attended."
Anna Kellerman, MamaCreatives
Highlight presentations include:
Maintaining the "Mmm" Factor

Tantra for the 21st Century

Secret Women's Business

Become a Black Belt in the Bedroom

The Art & Craft of Mindful Sex

Heartfelt Sex for Parents

The Complementary Sexes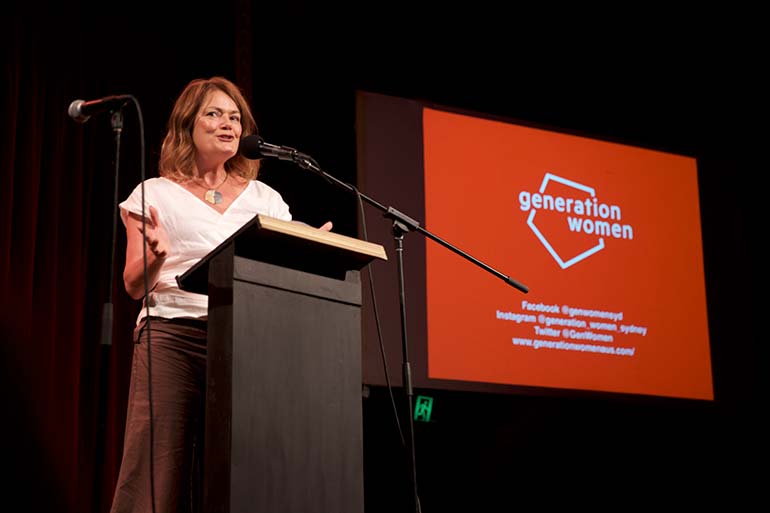 Here are some photos and testimonials from her speaking tour for EO India. Eighteen presentations over 12 days in seven cities - what an experience!
"Your talk was an eye opener and everyone appreciated it. The overall rating was 8.5 on 10 which is very high in our standards."

"I want to personally thank you for your time and effort for the seminar. All the feedback so far has been great!"

"I loved your humour and relaxed facilitation. It really disarmed everyone in a good way!"

"That was fabulous. You have real presence."
Public Speaking Videos
Here are some videos and testimonials from previous talks. Take a look, and if you like what you see, then please contact us to arrange a presentation at your event.
Here I am leading a Masterclass for Creative Mamas on How To Harness Your Sexuality to Boost Creativity.
"Everything you could wish for in a speaker!"

"An extremely entertaining and educational talk."


Here I am giving the keynote speech at the Toll Charity Lunch on Secret Women's Business
"That was hilarious! You're so funny - and informative at the same time!"

"Thank you very much it was fabulous. We all learnt a lot!"

Speaking on the Art & Craft of Mindful Sex at the Wake Up! Sydney Conference
"Wow, you are an amazing speaker! You're so knowledgable and very entertaining. Thanks so much."

"I was genuinely so inspired by your leadership and insight. Thank you !"

Here I am speaking on Heartfelt Sex at the Happy Parents Happy Families Day
"Thank you for delivering a great presentation and inspiring our couples last Sunday."

"You're an inspiration to everyone around you."


Here I am saying "Wake Up Your Vagina!" at the Vagina Festival
"You were easily the best thing about the festival, a great, rallying performance!"

"Many thanks for a great talk. Lots of good stuff to think about."
Here I am Speaking on How To Have Awesome Sex at the Passion for Life Expo
"Thanks for such an informative talk the other weekend – we all got a lot out of it."

"I've never felt so comfortable with someone so confronting!"

Here I am busting sex myths at a businesswoman's networking seminar
"You were certainly a big hit and everyone couldn't stop talking about you!"

"You are incredibly knowledgable"

"Everyone needs to hear this!"