Sex advice, sex tips and relationship advice
Published Monday, March 16, 2015
Download Audio: Can Fisting Be Fabulous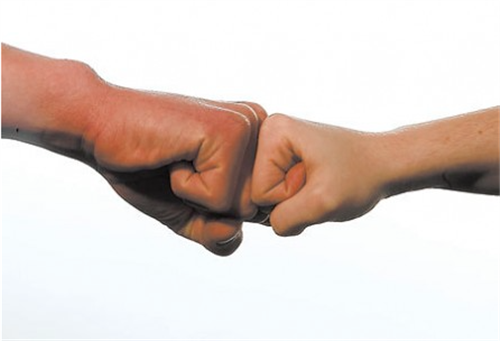 Of course, anything can be fabulous! Double entry with gherkins stuffed up your nose could be fabulous - if it's something you genuinely desire, it's consensual and practiced safely.

As I constantly repeat: it's not what you, do it's how you do it.

If you ever think you 'should' do something sexual, whether it's to be cool, or because your partner wants you to, or because you think it's what everyone else does, but you don't really want to - then don't do it.
So, back to the topic of fisting. If you subject yourself unwillingly to fisting because you think you should, for any of the above or any other reason, then no, it won't be fabulous, it will be awful and probably traumatic.

If, however, the thought of having your lover's entire fist inside you gives you a shiver of erotic anticipation, even if that shiver is tinged with a touch of trepidation due to the unknown - well, give it a go. Assuming of course that your partner has an equal desire to put their entire fist inside you.

I'm going to refer to vaginal fisting here. Anal fisting is of course a possibility, in which case follow this general procedure but with a lot more lube.

Here's how you do it:
First, set the scene and set the rules, so to speak. The receiver needs to be relaxed and comfortable. You both need to agree that you're proceeding at the receiver's pace, and that she'll let the partner know if she needs proceedings to slow down or stop.
Then, she needs to be aroused. When a woman is aroused and relaxed her vagina will relax and open, so make sure there's plenty of kissing and stroking all over and whatever kind of genital stimulation gets her relaxed and aroused.
Fister: have plenty of lube on hand (that's a pun!), even if you can get your fingers in chances are you'll need it for the base of the hand. And most importantly, take your time. Go very very slowly. First one finger, then two, then three. Once they're all in you can gently but firmly apply pressure to ease the hand in so that the little finger and most of the thumb is in. And then the widest part of the hand, around the base of the thumb will the hardest, but gently gently, applying steady pressure, or alternating pressure with release so there's more of a slow pulse to enter, or twist your wrist and spiral your way in…and you're in.
Receiver: focus on breathing and relaxing your body, particularly your hips and pelvis, feeling that you are opening your body and inviting your partner in deeper and deeper.
Or not, if it's too much. You can stop at any time, and that's perfectly fine.
Fister, if you do make it in, and she's enjoying the sensation, then you can waggle your fingers and move around a bit, explore, experiment - always focusing on her response and her enjoyment.
And then slowly, slowly ease your way out.
Then give her time to recover, as it's a pretty intense experience. Check to see what she needs, a cuddle, her hand held, time to come back to normal, a cup of tea…

That's fisting in a nutshell, and if that appeals and feels good when you do it, then fist away! For you fisting can indeed be fabulous.

And if doesn't appeal, or you've tried it and it hasn't done anything for you, then take it off the menu and do things that are fabulous for you.
Testimonials